The Municipal Government of La Paz (Bolivia) has won the 11th IOPD Award "Best Practice in Citizen's Participation" for its experience Neighborhoods and Communities of Truth Programs.
The Municipal Infrastructure Secretary of La Paz Mr. Rodrigo Soliz Bonilla represents La Paz in the ceremony and receive the award from the hands of the Quebec minister responsible for access to information and reform of democratic institutions Ms. Rita de Santis, Mr. Russell Copeman councillor of Montreal and Fernando Pindado Sánchez Secretary General of the IOPD.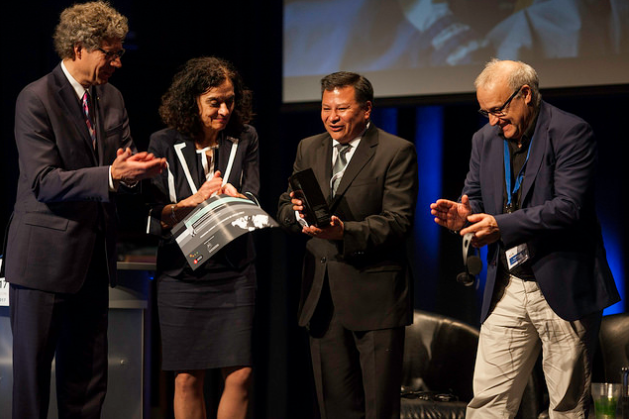 The six finalists who received a special mention were the municipalities of Ampasy (Madagascar) for their participative budget, Austin (Texas, United States) for their experience "Conversation Corps", Nanterre (France) for "Permanent Agora", New Taipei Taiwan) for the "Participatory Budgeting for Disabled Persons Employment Promotion in the Sanxia District", San Casciano Val di Pesa (Italy) for the community transport network "muoverse in Comune" and the Cabildo of Tenerife for the "Hey! Tenerife strategy".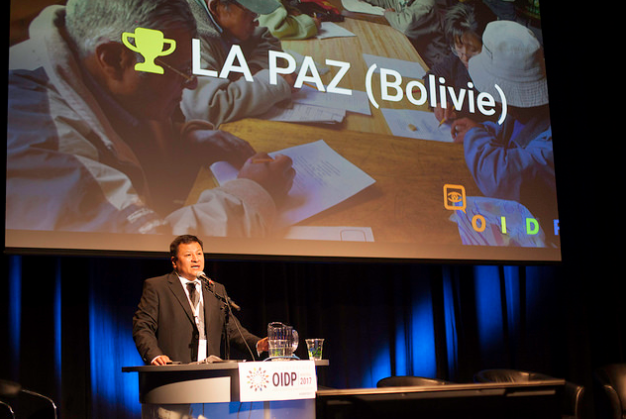 These 7 nominations were presented in a session of the 17th IOPD Conference.
A total of 48 applications were submitted from 24 countries, and the award was granted according to the criteria of an international jury.
You can check the winning experiences in this link https://oidp.net/distinction/en/