Sustainable development projects selected by residents will be funded by the City.
The first phase of the Participatory Budget 2019 runs from February 14th to March 19th. For the first time, and at the request of the inhabitants, this new edition will be eco-citizen: Messins and Messines are invited to propose their project ideas from the angle of sustainable development and urban ecology.
Driven by a real collective dynamic, the 2018 Participatory Budget generated 583 ideas. On arrival, 43 projects chosen by the inhabitants will be implemented during the year 2019.
On the strength of this success, the City of Metz renewed this system from February 14th to November 7th, 2019. The Participatory Budget will thus make it possible to carry out projects dedicated to sustainable development, decided by the inhabitants, in their districts or for the whole city, in order to improve their living environment.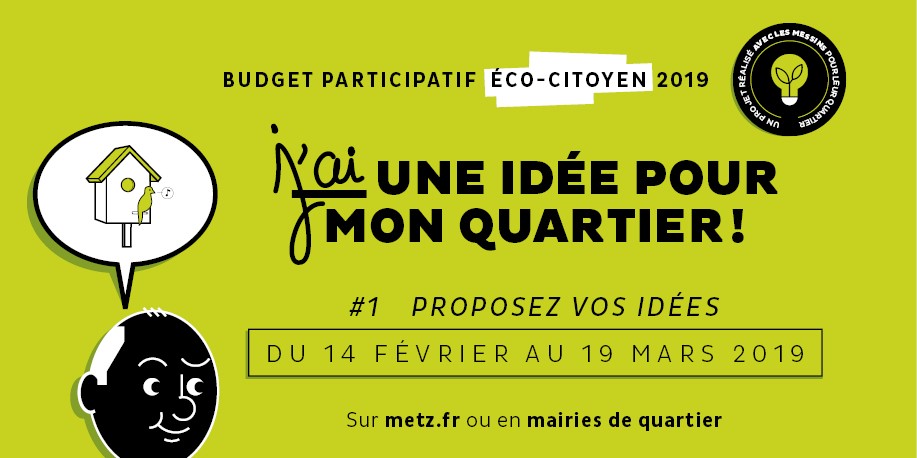 The 5 phases of the 2019 eco-citizen participatory budget
1) Rendez-vous from February 14 to March 19 on metz.fr/jeparticipe to submit ideas!
2) From March 20 to June 20, all the ideas are studied by the municipal services according to the 4 criteria and are then classified according to their feasibility.
3) From June 21 to September 20, the list of ideas is published with an answer for each of them. Based on these responses and in meetings between neighborhood committees, residents and services, feasible ideas are refined, if necessary, to become more specific proposals.
4) From September 21st to October 7th, the Net surfers give their opinions on the proposals which they prefer.
5) From October 8 to November 7, prioritization! Considering the opinion of the neighborhood committees and Internet users, the proposals are ranked in order of priority. The final decision then takes place on November 7, 2019 in the main rooms of City Hall.
What can citizens propose?
To be in the framework of the participatory budget, an idea must be able to answer 4 criteria:
It must respond to the principles of sustainable development in the broad sense: development, fight against climate change, solidarity, production and consumption different, nature protection.
It must satisfy a public interest motive, that is, an expense that must benefit the greatest number of citizens.
It must correspond to the municipal competences, that is to say to the fields of intervention of the City (green spaces, cleanliness, town planning, education, culture, sport ...).
It must relate to capital expenditures made in the setting up of equipment or facilities that improve your living environment as.