The city that organizes the conference will also hold the presidency of the network

The IOPD held an annually International Conference to discuss and reflect on the state of participatory democracy in the world. The Conference is organized by the city that holds the presidency of the network, and defines the issues according to their priorities in this area. The conference brings together local, regional and nationals politicians, facilitator, academics and political activists. These seminars consist of lectures, panel discussions around specific issues, parallel exchange sessions and multiple parallel meetings between participants.
The technical secretariat is launching a call on cities interested in organizing the 20th Conference in 2020. The host of the 20th conference and annual IOPD Presidency will be decided during the next General Assembly the 10th December in Iztapalapa, Mexico City.
To submit your application, you must send before November 25 to the email address oidp@bcn.cat or info@oidp.net:
Letter from the political head of the local government presenting the bid
General description of proposed contents of the conference (maximum two pages)
General description of the technical and financial resources of the local government submitting the bid (maximum two pages)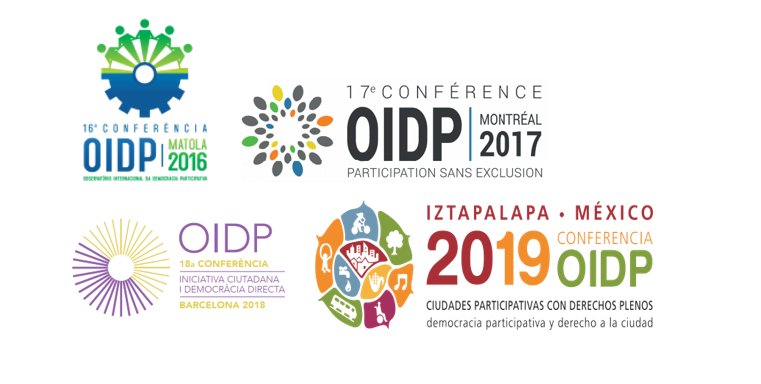 The following cities have held the presidency and organized the conference since 2001: Barcelona (Spain), Quezaltenango (Guatemala), Lille (France), Buenos Aires (Argentina), San Sebastián-Donostia (Basque Country-Spain), Nanterre (France), La Paz (Bolivia), Reggio Emilia (Italy), Mexico City (Mexico), Lleida (Spain), Porto Alegre (Brazil), Cascais (Portugal), Canoas (Brazil), Madrid (Spain), Matola (Mozambique), Montreal (Canada), Barcelona (Spain) and Mexico City (Mexico).
• Rules for the election of the host city of the conference and for the presidency of the IOPD 2020
• The deadline for submitting a candidacy to host the conference is 25 November 2019.
• If you are interested in organizing the 21th Coference in 2021, you can also contact the IOPD.