A global meeting on participatory democracy will be held in the context of World Habitat Day (5 October) and World Metropolitan Day (7 October). During the event, the results of the 14th IOPD Award will be unveiled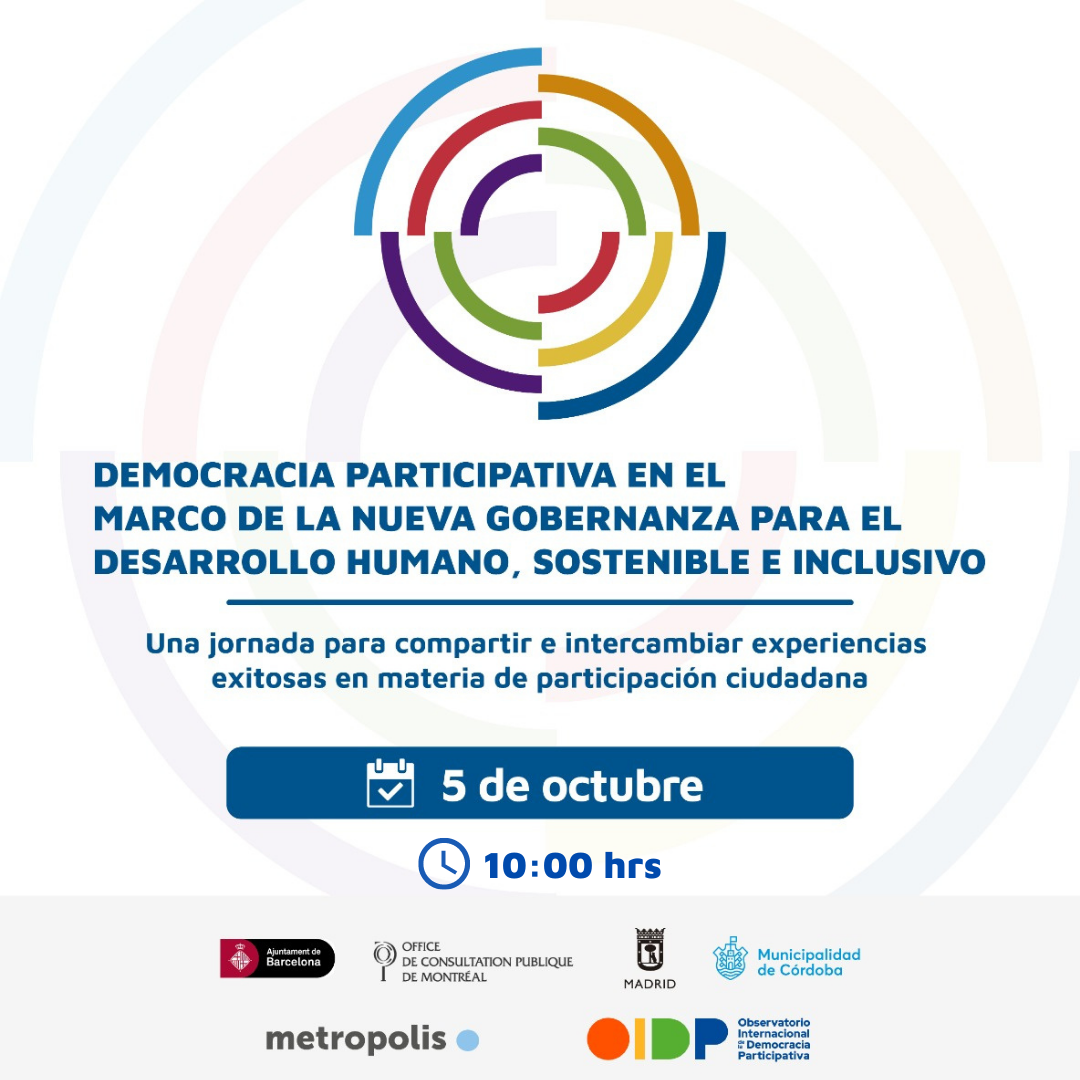 On Monday 5 October at 10am in Argentina (3 PM CEST), a virtual meeting will be held between leading figures from the cities of Cordoba, Barcelona, Montreal and Madrid and the Metropolis and IOPD city networks in order to share and exchange successful experiences of Citizen Participation in the metropolises.
Participatory democracy is a collective decision-making process that combines elements of direct and representative democracy: citizens have the power to decide on policy proposals and politicians take on the role of policy implementation.
Its objectives are to increase the institutional capacities of our metropolises for the construction of more cohesive and inclusive cities and to exchange and disseminate our learning in order to promote the active participation of citizens in public affairs.
Opening
The Mayor of the City of Córdoba, Martín Llaryora, will open the event, accompanied by the Secretary for Planning, Modernisation and International Relations, Alejandra Torres.
Conference
The Secretary General of Metropolis, Octavi de la Varga, will give a conference entitled "Citizenship and Participation in Public Affairs before the COVID-19: challenges for strengthening participatory democracy mechanisms", which will place us in the context of the pandemic and then allow us to reflect on the state of affairs of participatory democracies.
Speakers
Each participating city will have a reference person who will speak about that city's experience with Participatory Democracy.
On behalf of the host city, the Undersecretary for Planning and Management for an Inclusive City, Liliana Montero, will be present.
On behalf of Barcelona City Council, Pau González Val, Advisor to the Department of Citizenship Rights and Participation, will give a speech.
Representing Madrid City Council will be Borja Prieto, Head of the Institutional Promotion, Dissemination and Extension Service, and representing the City of Montreal will be Luc Doray, General Secretary of the Public Consultation Office.
The Dialogue Table will be moderated by Adrià Duarte, Coordinator of the International Observatory for Participatory Democracy.
At the end of the dialogue table, the names of the cities awarded the 14th IOPD Award Best Practice in Citizen Participation will be revealed.
To participate in the online event, we invite you to complete the registration form at the following link
Agenda. The session will have simultaneous translation Spanish-English-French